​​​​​​​​​​​​​​​​​​​​​​​​​
Served as the Marketing Manager for the Student Body President Campaign Team.
- Create all targeted Social Media content (Twitter, Facebook, Instagram, YouTube) 
- Produce T-Shirts and Banners.
- Film testimonials and promotional videos.
- Edit and produce videos for posting on social media.
- Take headshots of the team, as well as group photos and event photos. 
- Create website encapsulating the entire campaign.
- Write copy and content for targeted audiences on social medias.
​​​​​​​
Served under the candidate and the campaign manager, had a team of 9 that worked under our guidance, as well as an auxiliary team of 150 who assisted in direct marketing.
Graphics created for social media postings and the website were made with eye-popping colors, multi-dimensional aspects, geometrical aspects, and sometimes referenced outside trends like the Bachelor.
Our videos targeted not only the current students at Texas A&M but also incoming freshmen for the following year. We used references to The Office, trending music, the SuperBowl and more to successfully reach the student body.
What you post has to be thought out, and targeted for the right audiences. We used references to Texas A&M and popular trending styles to attract our audiences.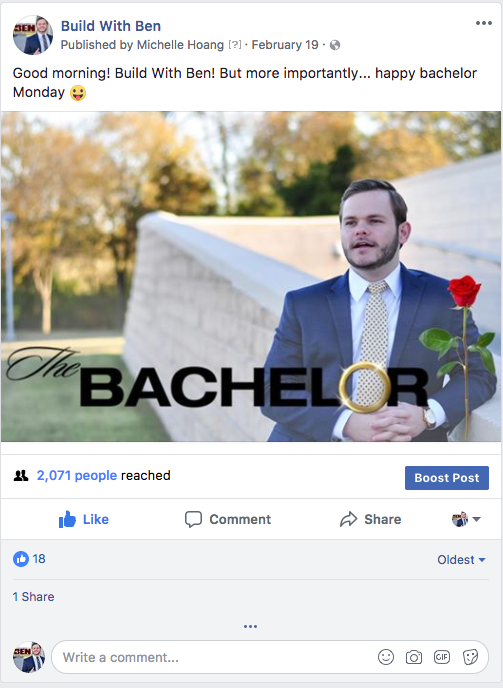 Website
Website used for engaged users to educate on candidate policy/platform, team information and a media repository. The site has interactive objects to keep visitors busy and excited, and allows the user to understand Ben beyond what meets the eye.